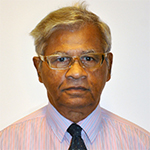 Professor A. Navaratnerajah
Chairman
E Mail : chairman@nara.ac.lk
Tele : +94-11- 2521881, +94-77-7739261
Fax : +94-11- 2521881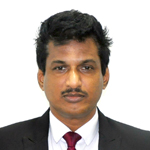 Mr.L.K.T.C.Lokukumara
Director General
E Mail : dg@nara.ac.lk

Tele : +94-11- 2521932, +94-77-8000426
Fax : +94-11- 2521932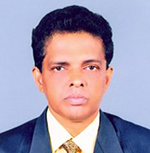 Dr. H.M.P. Kithsiri
Deputy Director General (Research & Development)
E Mail : palikithsiri@nara.ac.lk
Tele : +94-11-2520638, +94 11-3131344, +94718442728

Heads of Divisions
Name
Division
Contact Information
Dr. H.S.S.K.Haputhantri
Head/ Marine Biological Resources Division
sisirahaputhantri@yahoo.com
Tele: +94-11-2521914
Dr. V. Pahalawattaarachchi
Head / Inland Aquatic Resources and Aquaculture Division
vasalanka@gmail.com
wasantha@nara.ac.lk
Tele: +94-11-2521005
Mr.K.H.M.L. Amaralal
Head / Socio Ecomomics & Marketing Research Division
lalith@nara.ac.lk
Tele: +94-11-2529718
Mr.N.B.P.Punyadeva
Head / Fishing Technology Division
punya@nara.ac.lk
Tele: +94-11-2529737
Mrs.K.W.S.Weerasekara
Head / Environmental Studies Division
shyamalikaww@nara.ac.lk
Tele: +94-11-2521009
Dr.K.W.S.Ariyawansa
Head / Institute of Post Harvest Technology
sariyawansa@hotmail.com
Tele: +94-11-2529715
Dr.K Arulananthan
Head / National Institute of Oceanography Marine Sciences
arul@nara.ac.lk
Tele: +94-11-2521008
Mr. A.B.A.K. Gunaratne
Director / Monitoring and Evaluation
ajith@nara.ac.lk
Tele: +94-11-2529581
Dr. Geevika J Ganegama Arachchi
Head / Technology Transfer Division
janadari1@yahoo.com
Mr.S.R.C.Ranaweera
Head/ National Hydrographic Office
roshanccom@gmail.com
Tele: +94-11-2521705
Mr. R.D.P.P.Ranasinghe
Director /Administration Division
Tele: +94-11-2524430
Mr.N.S.Hewagama
Director / Finance Division
directorfinance@nara.ac.lk, nishanthashewagamage@gmail.com
Tele: +94-11-2521383
Mr.S.K.S. Liyanarachchi
Director / Service & Operation Division
saman@nara.ac.lk
Tele : +94-11-2529737
Ms.B.G.Sunethra Kariyawasam
Chief Librarian
bgskariyawasam@nara.ac.lk
Tele: +94-11-2521633
Ms. Udayangani
Secretary to the Governing Board and Legal Officer
udayangani.malika76@gmail.com
Tele: +94-11-2529716
Mr. M.D.Senaratne
Internal Auditor
senarathne10@gmail.com
Tele: +94-11-2529736
Mr. D.V.S.P.Bandara
Extension Officer
Tele: +94-11-2529734
Members of the Governing Board
Name
Address
Contact
Prof. A. Navaratnerajah
Chairman,
National Aquatic Resources Research & Development Agency,
Crow Island,
Mattakkuliya,
Colombo 15.
anavaloga22@gmail.com
chairman@nara.ac.lk

0777-739261
0778-773009

Mr. Selvendran Salivan de Marian
No. 17/2, Uyarappulam, Anaikoddai, Jaffna.
salivan82@yahoo.com
0772622357
Mr. Gizal Chinthana de Silva
No. 273, Stanley Road, Jaffna

No 3/9,Railway station Road

chinthandesilva@gmail.com
0771603333
Ms.Gawri Indrarathne
No. 06, Gauder place, Sri Saranankara Road, Dehiwala
gowriein@gmail.com
Dr. Asha De Vos
No.14,Malalasekare Place,
Colombo 07.
ashadevos@gmail.com
Dr. K.H.M Ashoka Deepananda
No.07, Jayamahavihara Road, Nupe, Matara.
ashoka@fish.ruh.ac.lk
0718-613477
Dr. W.A.D.V. Weerathilake
No.139,05th Lane New Town, Giriulla.
dammikakandy@yahoo.com
Mr. L.K.T.C. Lokukumara,
Director General,
National Aquatic Resources Research & Development Agency,
Crow Island,
Mattakkuliya,
Colombo 15.
lokukumara@gmail.com
dg@nara.ac.lk

0778-000426

Mr. S. N. B. K. S. Senaratna
Additional Secretary (Admin & Human Resources)
Ministry of Fisheries and Aquatic Resources.
New Secretariat, Maligawatta,
Colombo 10.
adsecadmin@fishries.gov.lk
0714-455577
Ms. K.D.A. Munasinghe
Additional Director General,
Department of Project Management & Monitoring,
Ministry of Finance, Economy and Policy Development,
The Secretariat,
Colombo – 01
anoja123@yahoo.com

071-5334520

Mr. S.J. Kahawatta,
Additional Director General (Acting)
Additional Director General
Department of Fisheries & Aquatic Resources Development ,Maligawatta Sec,
Colombo 10
Land 0112 421 956
Fax 0112 449 170
mobile 0702-104455
G mail saksusantha@yahoo.com
Ms. K.N. Kumari Somaratne
Additional Secretary (Development),
Ministry of Ports & Shipping,
No. 19, Chaithya Road,
Colombo 01.
knksomaratna@yahoo.com

0714-491188

Mr.S.D.P.J. Dampegama
Surveyor General,
Survey Department of Sri Lanka,
150, Kirula Road,
Narahenpita, Colombo, 05.
Mr. Jayantha Chandrasoma
No. 15, Horana Road,
Panadura.
Mr. Anura Disanayake
Secretary,
Ministry of Higher Education, Technology & Innovation,
No. 18,
Ward Place,
Colombo 7.